Nominal groups
Nominal groups are collections of nominal accounts that are used to output values in the set of accounts.
The nominal group detail page lists the nominal codes that are included in a nominal group and the current balance of the group. That is, the balance of all the contributing nominal accounts added together.
To get to the nominal group detail page:
click a row of the nominal groups list; or
from the accounts preview, click a value. If that value is a nominal group balance, a View group link appears. Click View group.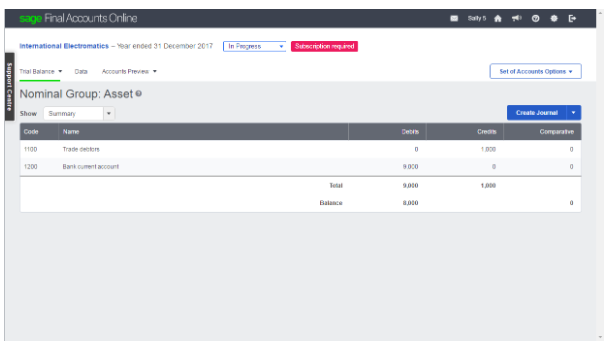 From here, you can:
Create a journal.
Edit the initial trial balance.

Export the list of nominal groups to a PDF or CSV file. To do this, choose the relevant option from the Create Journal drop-down menu.

Change the Show drop-down list to Nominal Accounts to see how each nominal account contributes to the balance.
Edit custom group nominal names
Read our topic on Edit nominal group display names
If this article hasn't answered your question, please consider searching the help or contacting us.