Accounts preview
When you print the set of accounts, the output will be optimised for print. Whilst viewing on screen, certain elements are present to help you find your place in the report. As you scroll through the set of accounts, you'll see that each section is outlined with the heading for that section remaining at the top of the screen until you move onto the next section.
To view a set of accounts click Accounts Preview.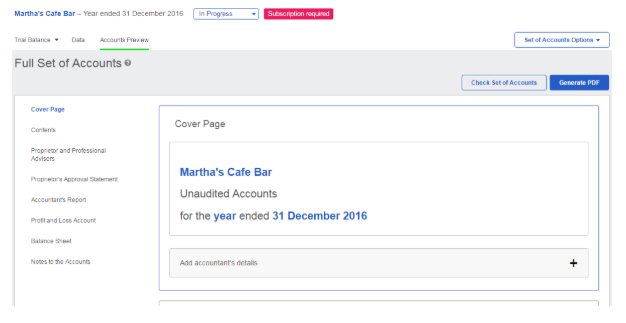 From the accounts preview, you can:
Jump to sections of the preview by clicking the section headings on the left of the preview.
Export the accounts preview as a PDF file. Choose this option if you want to print a set of accounts.
Add, edit or remove content, including changes to notes and accounting policies, from the accounts preview.
Click links in the preview to see where information has come from. In most cases you'll see the option to Edit that information and be taken to the correct place on the Data tab.
Click values on the accounts preview to see how that value has been arrived at.
Click note numbers in the primary statements to take you through to the corresponding note.
Add the accountant's name and address by clicking the Add accountant's details block below the cover page.
If this article hasn't answered your question, please consider searching the help or contacting us.