Data
If you want to make a change to the set of accounts that doesn't involve entering nominal balances, you'll find it here.
To view the Data page, click Data.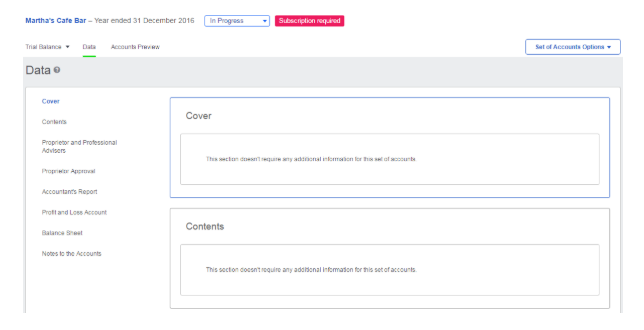 You'll find some sections on the Data page can't be edited and a message informs "This section doesn't require any additional information for this set of accounts". The section may or may not be present in the accounts preview, but if it is, Sage Final Accounts already has enough information to establish what needs to appear.
From the Data page, you can:
Enter, or change data—this is anything that isn't represented by nominal balances.
Review the data by working down the list. To jump to a different section, simply click the section name from the navigation menu.
Change the main details of your client. Simply, click the Information Page from the navigation menu.
Main details will be changed in this set of accounts only.
When you create a set of accounts, a copy of the client details is taken and used. If you later change the client details from the client summary page, you'll have the option to update the copy with the changed details when you next return to the Data page.
If this article hasn't answered your question, please consider searching the help or contacting us.