What's new
April
Create transactions from an email with Purchase Automation
Instead of uploading documents or images, you can create transactions from email attachments. Forward an email with a supplier invoice or receipt to a provided email address. From there, Accounting will automatically create a corresponding draft transaction for your review.
This saves you the time of having to sign in to Accounting and upload documents or images.
Learn more about Purchase Automation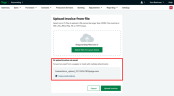 January
Automate data entry with Purchase Automation
Use Purchase Automation to automatically create purchase transactions from documents and images you upload. You can create up to 25 transactions at once, saving you time and reducing the risk of errors.