Email an invoice
There are two ways to email sales invoices:
Individually once the invoice is saved
Multiple invoices for the same customer at the same time.
What you need to know
Email your invoice as soon as you've finished entering the details or save it and email later.

Enter the email address each tome you send the invoice, or add an email address to customer contact so it send to the same person each time.

Your email message will contain a link to the invoice so your customer can open it a browser. Only the online version of the invoice will contain a Pay Now button or attachments. You can choose to also attach a PDF version of the invoice to the email.

Enter a new message for email you send or alternatively set up a default message to use for all customers.
Before you start
Set up defaults for the emails to save time when sending invoices to your customers.
Email a single invoice
Open a saved invoice and choose Email
Email multiple invoices
When sending multiple invoices, make sure you select the invoices for one customer at a time as all invoices are sent to same email address.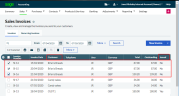 Go to

Sales

and

Sales Invoices

.
To find your unsent emails, click the

Issued

column on the sales invoice list. This brings the unsent invoices to the top of the list.
To see your unsent invoices in customer order, click the

Customer

column heading.

Use the check boxes to select the invoices you want to send. Make sure they're for the same customer.

Select the

Email

icon from the toolbar at the top of the list.
Enter the required email addresses. To send to more than one recipient, enter additional email addresses separated by a semicolon.
Enter the message you want to appear in the email, then select

Send

. All the selected invoices are sent to email addresses you've entered.
Remove the contact name from an invoice
To remove the contact name from an invoice:
From

Contacts

select

Customers

.
Open the customer you need to change.
Select the

Contacts and Addresses

tab.
On the right, select the

Edit

icon next to the contact name.
Select

Name

and enter 'Main Contact'.

Save

your changes.
When you create an invoice using this contact, the invoice will be addressed to only the company, not the individual contact name.
Send documents from your own email account
You can't change the no reply address; [email protected].
To send from your own email account
Export the invoice to PDF and save the file locally to your PC or mobile device.
Attach your file to an email to send from your email account.
Related content
Return to invoicing customers within from Great Britain