Send a credit note
Send by email
You can email your credit note as soon as you've finished entering the details, using the Save and Email option. Alternatively, you can email it later by viewing the credit note and selecting the Email option from the panel on the right hand side.
Using either of these options displays the Email Credit Note dialog. Here, you can enter the To and Cc email addresses you want to send the credit note to, and select whether you'd like to receive a copy yourself. You can also specify whether you'd like to attach a PDF version of the credit note to the email.
The Subject and Message text shown here are taken from the defaults set in Document Emails, within Settings. You can change these within the Email Credit Note dialog.
Preview and print a credit note
If you'd like to see what your credit note will look like before you print it, you can preview it on screen. This shows how your printed credit note will look, using the template, logo and other customisations you've made.
To preview your credit note, select the Print preview option from the options pane on the right of the credit note: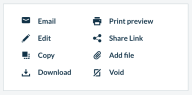 Once you've previewed your credit note, use the dialog that appears to choose whether you want to mark it as sent or leave it unsent.
What happens when I send a credit note?
The timeline on the credit note is updated, and shows as SENT:

The issued status of the credit note shows as 'Yes' on the Sales Credit Notes list.