Introduction to bank feeds
Connect Sage to your online bank with a secure bank feed. We'll automatically check for new transactions each day and download them as soon as possible.
Transactions usually show in Accounting the day after they show in your bank account.
Once transactions are uploaded, you can easily create and apply bank rules and bulk delete any duplicate transactions before they are imported into Accounting.
What are bank feeds
A bank feed is s secure connection between your bank account and Accounting Start.
Once connected, transactions are imported from your bank account into Accounting Start. Once imported you simply decide choose whether to create a new payment or receipt, match to a payment or receipt you've already entered, or choose the invoice that's being paid.
To save you even more time, you can set up rules for common transactions such as your direct debits.
Connect to your bank
We have will either connect directly to your bank or via Plaid, our third party provider.
For the some banks we only have one type of connection, and for others you can choose. For all connections you have confirm that you authorise Sage to connect your bank account.
List of banks that support bank feeds
Direct bank feed
For direct bank feed you complete an authorisation form, and send it your bank. Your bank will set up the bank feed. This usually takes 3 to 10 days.
You cannot download transactions prior to the day your bank feed is active (unless you bank with Tide).
Bank feeds via Plaid
To securely import your bank transactions we've partnered with Plaid, an FCA authorised service to form a direct connection with your bank.
When connecting via Plaid you sign into you into your online bank account to authorise the connection. This connection can be active straight away or in a few hours.
| Direct | Via Plaid |
| --- | --- |
| | |
Banks without bank feeds
If a bank feed is not available for your bank, you can upload transactions from a bank statement using QIF, CSV or other file types.
Review bank transactions
Once you bank feed is connected, you'll see the number of imported transactions on the Banking page. Select the number to view all transactions on the Incoming Bank Transactions page.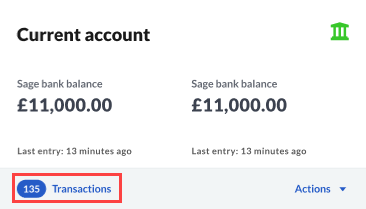 For each transaction you need to choose whether to:
Help with bank feeds
Disconnect a bank feed
Find out how to disconnect a bank feed. Bank rules will need to be set up again if you reconnect your feed.