Create bank rules
Use bank rules with bank accounts connected to a bank feed or when you import a statement.

Create bank rules before or after receiving transactions via a bank feed or statement import.

Manage bank rules any time from a centralised location on the Banking page.
You can create up to 300 bank rules per bank account on the Incoming Bank Transactions page.
Create bank rules
Before receiving transactions
Select Banking, and then select:
Manage bank rules. To open the Bank Rules page, showing rules for all accounts.

or a
Actions, Manage bank rules. In the bottom right-hand corner of a specific account to open the Bank Rules page, showing rules for only that account.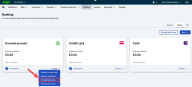 If necessary, select an account in the Bank accounts field. Select Create rule.

Enter a name for the rule and select whether it applies to Payments (money paid out) or Receipts (money coming in).

Select Activate this rule when saving to make the rule active. If you decided not to use this rule later, deselect this option to deactivate it.

Set the conditions that the bank transaction must have to match the rule.

Set the transaction details to tell Accounting Start how to create a transaction.
After receiving transactions
On the Incoming Transactions page:
Select Rules, and then New rule.

or
Give the rule a Name and specify whether it's used for Payments(money paid out) or Receipts (money coming in).

Review and if needed, edit the rule and then select Save.
Prioritise your bank rules
Only one bank rule can be applied to each bank transaction.
If you have more than one bank rule, several rules may apply to the same bank transaction. To make sure we apply the correct bank rule, we recommend that you give each rule a priority. This makes sure we apply them in the right order.
Set the highest priority to your most specific rules, such as rules where one of the conditions is set to specific amount.
Open the rule to edit it.
From the

Priority

drop-down list, select:

First.

To make this the first rule in the list, giving it top priority.

Below.

If this isn't a top priority rule. Select which bank rule it should follow in the order.
Select

Save

.
We apply the bank rules in this order the next time you import transactions in from your bank. If you have pending transactions, select Apply rules to pending transactions for the new transactions to apply them.
Apply bank rules to incoming transactions
Your bank rules are automatically applied to your incoming transactions and then entries to create are suggested on the Incoming Bank Transactions page. Select:
Create All.

If you're confident that the suggested transactions are correct.

Review these transactions.

To check that the rules were correctly applied before you create transactions.
The Rule Applied message shows on each transaction where a rule was successfully applied.

Accounting Start will let you know if any details are missing in the rule that may be required to create a transaction.

The Imported from bank statement message shows each transaction you imported from a bank statement.

The Imported from AutoEntry message shows each transaction that has been imported from AutoEntry.