Access your clients' subscriptions
After reading this topic you will know:
Where to access your clients' subscriptions.
So that you can provide bookkeeping and payroll services for your clients, you can buy a subscription to Sage Accounting or Sage Payroll and assign them to one of your clients.
You can open any of your client's subscriptions from the client list by selecting the name of the product in the same row as the client.

Or once you've opened a client, you can find them in the Products tile.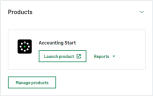 Note:
If you're accessing a subscription that your client is paying for, open the client, select the Products tab, then find the subscription under the Connected heading.
Related content