Access your clients' reports
After reading this topic you will know:
How to access reports directly from your client's products. Do this for all products regardless of whether you or your client is paying for the subscription.
Get quick access to key financial reports for your clients from the client record.
Once you've opened the client record, launch a report from the Products tile.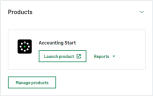 Launch the following reports, depending on the product
| Report | Accounting | Start | Individual | Individual Free |
| --- | --- | --- | --- | --- |
| Trial Balance | | | | |
| Profit and Loss | | | |   |
| Balance Sheet | | | |   |
| Aged Debtors | | |   |   |
| Aged Creditors | | |   |   |
| Sales Day Book | |   |   |   |
| Purchase Day Book | |   |   |   |
| Nominal Activity | | | |   |
| Audit Trail | | |   |   |
Related content
Access your clients' subscriptions
Invite clients to a subscription
Manage invitations