Set up and Manage users
After reading this topic you will know:
How to find the Manage user section.

How to view all current users.

How to add new users.

Accessing the user area
Once logged into Org Hub, select your business name from the main navigation bar, then select Manage user.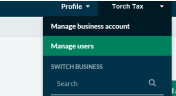 View a user
When you are on the Manage users section you can view all your current users.
Select the relevant user to show that user's business level access details.
How to add a user
When adding a user you can assign the roles and different levels of access you want this user to have.
Go to Manage users.

Select Add user.

Enter the email for the user.

Select the checkbox depending on the account level access you want to give. A single user can access both options, a single option or have no access assigned to them.


Select the business you want to assign to the user and include their role and product area. A single user can have multiple roles assigned to them here.

Select Add to complete adding the user.
Change first or last name for the user who's logged in
Make your changes, then select Save.