Accounting, wherever you are
If you are always on the go, you might not have time to get back to the office to check your accounts. With Sage Accounting, you can quickly and easily manage your accounts wherever you happen to be.
However you choose to access Sage Accounting, you work on one set of data with all the changes you make on your device automatically synchronised when you go online.
Using an internet browser
Sage Accounting is accessible using an internet browser on your computer, tablet or mobile device.
Using an app
Because Sage works in your browser, you don't need to install anything to get started. However, devices with smaller screens may not offer all of the functions you can find when using Sage Accounting on a device with a bigger screen like a desktop PC. 

While you're on the go, you can still add your expenses, income, and produce invoices using our mobile app (which is free to download and use). Find out more about the app.
Logging in to
Sage Accounting
To make sure you're in the right place, always log in from sage.com, rather than using bookmarks.
From the Sage Business Cloud page.
Select Log in

Not sure what your log in details are
Your email address will be the one you used when you signed up for Sage Accounting.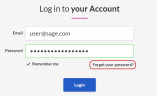 If you can't remember your password, go to the log in page, then select Forgot your password?