Import journal entries
To import a file of journal entries, it must:
Contain only journal entries for existing ledger accounts. If necessary, create accounts in your chart of accounts before importing the file.
Be saved in comma separated value (CSV) format.
Use the same column headings and formatting as in the journals template file.
Step 1: Download the CSV template file
From Adjustments, Journals, select New Journal and then Import Journals.

Select the CSV template link to on the Import Journals window to download a CSV template you can use to import your data.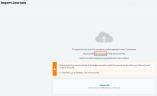 Go to the downloads folder on your device to find the file.
Related topics